---
Markle Associates
Northern Ireland Railways DVDs
---
There are four NIR DVDs in two series. The NIR Archive Volumes 1 and 2 are original material about NIR.
NIR Then and Now Volumes 1 and 2 are compilations of NIR material taken from the Irish Railways Review Series. If you already have the IR Review Series you may already have the NIR stuff on other DVDs, but if you are just interested in NIR you will find all of the NIR coverage in the "Then and Now" DVDs.
---
NORTHERN IRELAND RAILWAYS ARCHIVE
VOLUME 2
£16.95 To Order see below.

This DVD features a further look back at the history of Northern Ireland Railways. Those interested in NIR may have already seen the other Markle DVD productions - NIR Archive Volume 1 and NIR Then and Now. This video follows on to show the railway operation in more detail. It shows not just the trains, but also the infrastructure too. Some of the oldest film is not of modern quality, but it provides an unparalleled recording of life at the time on NIR.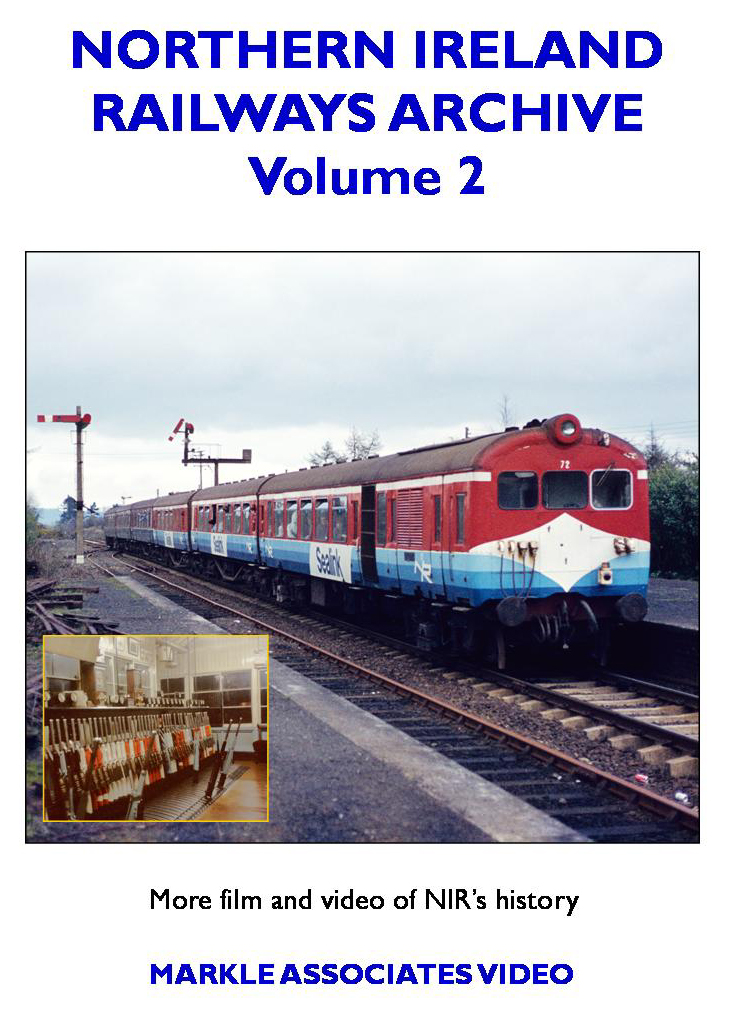 Chapter 1 - Inherited Units - the final days of the BUTs, AECs, MEDs, and MPDs are shown, including the final journey of a former BUT power car from Crumlin station to the quarry at Crosshill where it was dumped under water.
Chapter 2 - Diesel Electric Units - NIR's first DEs, later to become the 70 class, were the final part of the order started by the UTA in 1966, so these are also inherited units, but they set the pattern for the future. We then see the 80 class followed by the 450s class as the old formula was re-invented over the years and is still running in 2007.
Chapter 3 - Passenger Locomotives and their Rolling Stock - This chapter looks at the Hunslet (lDL) class locos and Mark 2 coaches, followed by the GM (later 111 class) locos before finally dealing with the modern 201 class and deDietrich coaches. Pairs of locos from all three classes are seen operating in multiple. GMs are seen arriving by sea at Dublin and a Mark 2 coach is recorded travelling along the road from Larne to Belfast on a road trailer.
Chapter 4 - Other Locomotives - NIR's DH class are seen as are their replacements, the "MV" class, a second hand class of engines which were older than the DHs they were supposed to replace.
Chapter 5 - Infrastructure - This chapter looks at many of the other aspects of NIR which have not been recorded elsewhere. Over the 40 years since it was created, NIR has been steadily upgrading and modernising, as we see many of the old systems in operation, including mechanical signalling, level crossing gates, and ticket machines.
Locations covered include Adelaide, Antrim, Ballymoney, Bangor, Belfast Central, Belfast York Road, Botanic, Carrickfergus, Coleraine, Dublin North Wall, Downhill, Dunmurry, Eden, Eglinton, Hilden, Jordanstown, Lambeg, Larne, Lisburn, Londonderry, Lurgan, Magheramorne, Maze, Mossley, Mount, Portadown, Whitehead, Yorkgate.
Running time 75 minutes approximately.
---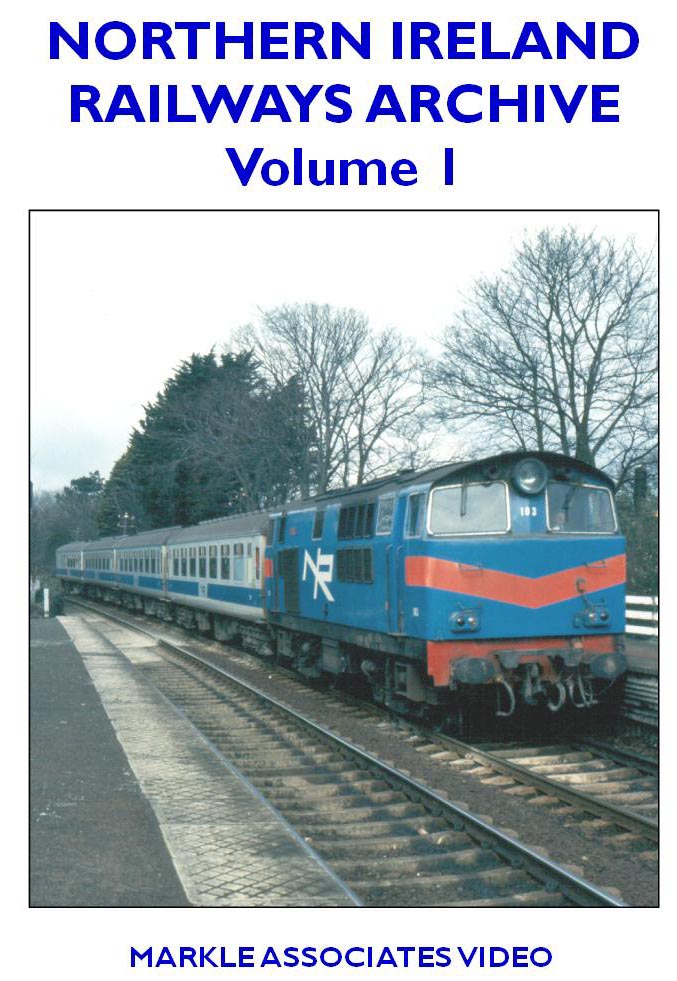 NORTHERN IRELAND RAILWAYS ARCHIVE
VOLUME 1

£16.95 To Order see below.
Created in 1967, Northern Ireland Railways had the daunting task of taking over the moribund railway system of the Ulster Transport Authority. This disc charts the changes from 1966 to 1999.
In Part One, covering the period back to 1989, features an introduction to
Ulster's railway system, the recent rolling stock, the track improvements and the Irish Rail operations in the Province. Part Two goes back further in time to examine the locomotives and pioneering railcars inherited by NIR and also the CIE operations in Northern Ireland. It continues with the multiple units and locomotives bought by NIR in the early years. Finally, we take a look at some of the work carried out 30 years ago by the NIR staff.
This part of the video covers railway practices which have long since disappeared from the Northern Ireland scene, such as the carriage of mail and the tending of oil lit semaphore signals.
Running time 56 minutes approximately.
---
NORTHERN IRELAND RAILWAYS - THEN AND NOW
Volume 1

£16.95 To Order see below.
This DVD collects together all the Northern Ireland Railways coverage from the first four editions of Irish Railway Review series. It sets out to provide in one affordable video scenes taken on NIR from the 1970s to 2004. Features include, amongst other things: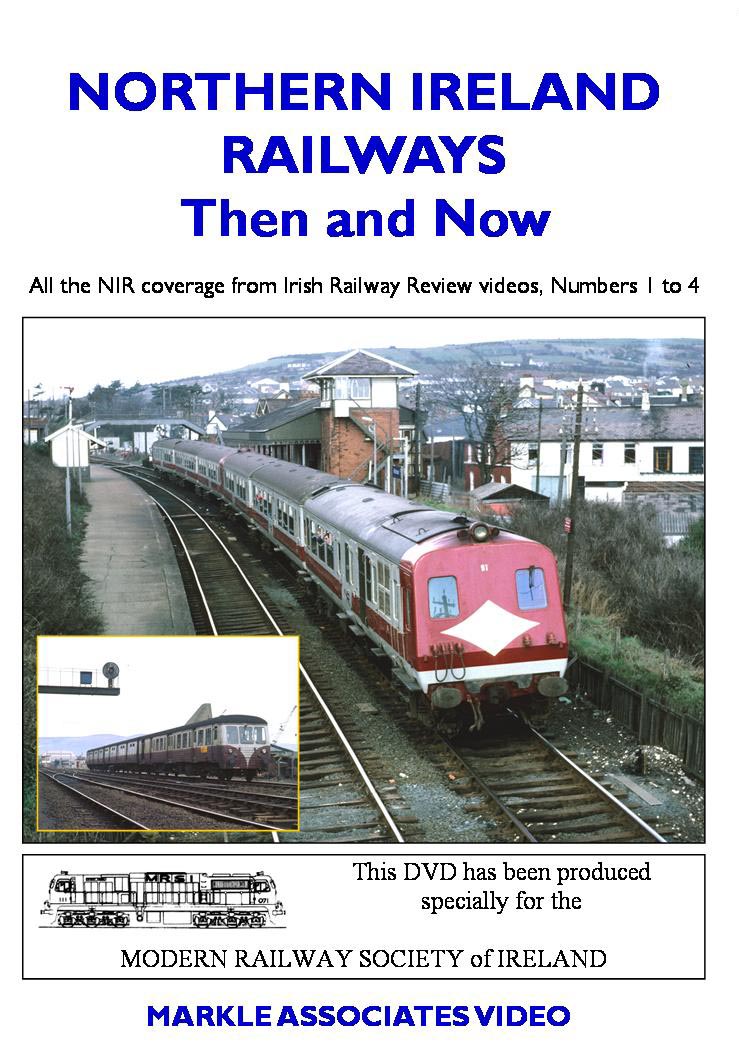 From IRR1, (2001) - "The Larne Line" and "Antrim by Two Routes".
From IRR2, (2002) - Mossley Station, the "The Belfast Termini", featuring Queen's Quay, York Road and Great Victoria Street,
From IRR3, (2003) - The Lisburn to Antrim Closure and the Building of the Cross Harbour Link in Belfast, including a cab ride across the Dargan Bridge,
From IRR4, (2004) - Poyntzpass.
Rolling stock covered includes 80 and 450 class railcars, 111, 201, MV, DH and DL class locomotives, plus MED units and lots more.
If you already have the entire selection of Irish Railway Review DVDs from Number 1 to Number 4 you will already have all of this material. However, if you are interested in collecting all the NIR coverage on one DVD, then this is the one for you.
Running time 90 minutes approximately.
---
NORTHERN IRELAND RAILWAYS THEN AND NOW
Volume 2

£16.95 To Order see below.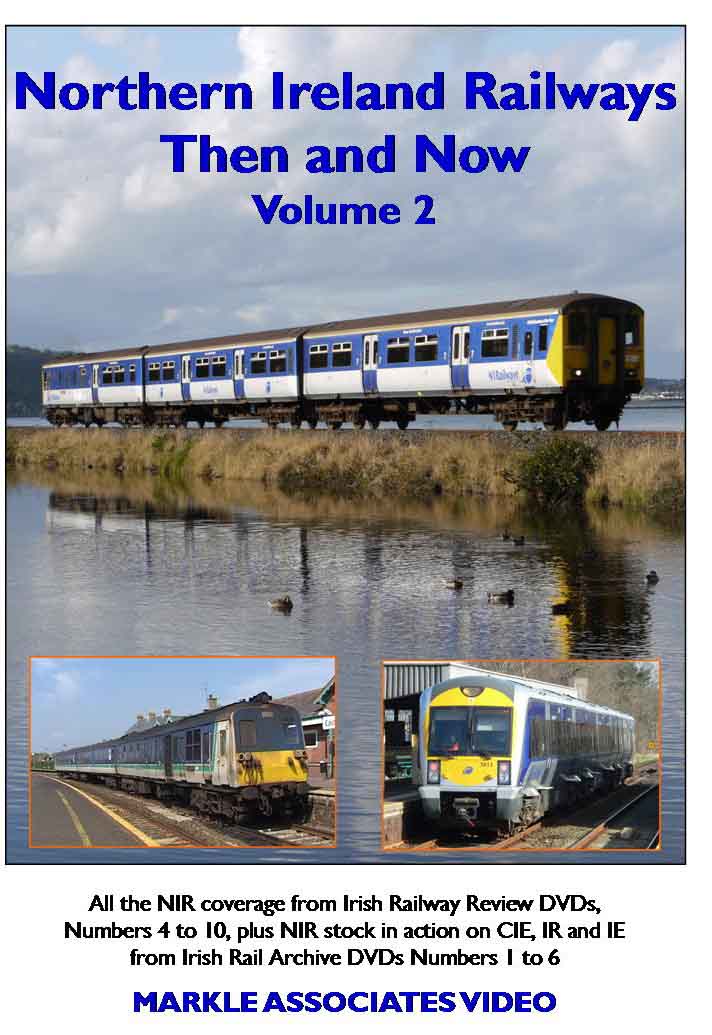 Volume 2 of NIR Then and Now is a compilation of the NIR coverage from 12 Markle videos. This time, as well as featuring trains in Northern Ireland, coverage has been extended to include NIR locos and rolling stock on CIE, IR and IE metals. Also featured is the Headhunters Barber Shop and Railway Museum in Ennskillen. The period covered is mostly 2004 to 2011, with some scenes going back to 1985.
Rolling stock featured includes the 80 and 450 class Multiple Units, along with the more modern 3000 class. Also seen are the ex-Gatwick Express Mark 2 coaches. Locos include NIR's 111 and 201 classes.
Locations featured include Antrim, Athy, Ballinasloe, Ballinderry, Ballycarry, Ballymena, Ballymoney, Belfast Docks, Bray Head, Broomhedge, Carrick on Suir, Castlerock, Cobh, Downhill, Dundalk, Enniskillen, Glynn, Helen's Bay, Jordanstown, Knockmore, Limerick Junction, Lisburn, Maghermorne, Mallow, Marino, Maynooth, Moira, Muine Bheag, Templepatrick, Trooperslane, Trummery, Wellington Bridge, Whiteabbey Whitehead and Wicklow.
Running time 90 minutes approximately.
---

To order the DVD for £16.95 + P&P (P&P Per order = £1 UK, £3 elsewhere), click one of the links below to send to send a blank email to us.
Click here if you are in the UK --- OR --- Click here if you are elsewhere (Republic of Ireland, Europe, etc).
We will ask which DVDs you want to order, or if you put that in the email it will speed things up.

We will then send you a Paypal invoice to allow you to pay by Paypal or credit card or debit card.
Or just send us an e-mail to marklejim@aol.com and ask for details.

---
Click the page you wish to see from the table below.
---
If you wish to contact Markle Associates Video:
Send us an email to the address on the Markle Home Page, making it clear please in the message title that you are responding from this web page, or write to:
Markle Associates,
7 Welltower Park,
Ayton,
Berwickshire, Scotland,
TD14 5RR
Telephone: 0189 07 81991