IRISH RAIL ARCHIVE SERIES
A series of 6 DVDs recording the Irish Railway Scene from around 1970 to 2010

---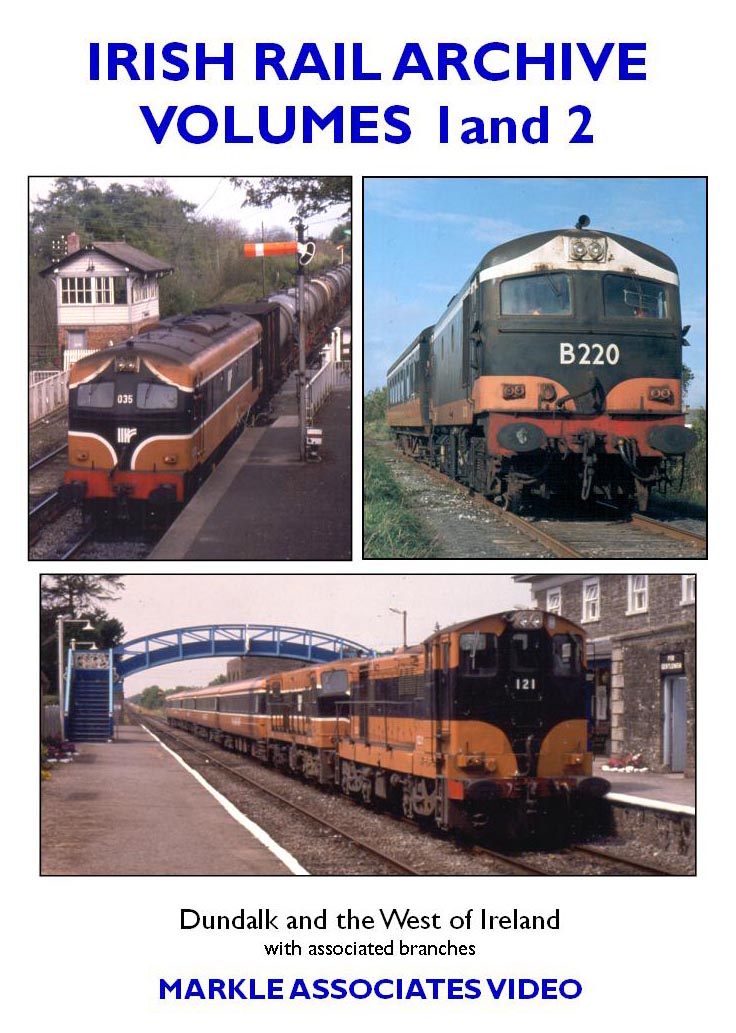 IRISH RAIL ARCHIVE VOLUMES 1 and 2
£16.95 -To order see below.
These two videos, along with numbers 3 and 4 of the series, were first published on VHS tape in 2000. Together they give a geographic picture of the Irish railway scene in the period from around 1967 to 1999. They have now been remastered with improved images and sound, and released as double length programmes on DVD.
Volume One features the lines from Dublin to Dundalk and Dublin to Sligo. The Branch lines featured in this section include the former Kingscourt branch, which is now closed beyond Navan. The Mullingar to Athlone line used to be the main line to Galway, but is now disused. And finally, we see the "Burma Road" line from Collooney to Claremorris which was closed in 1975.

Volume Two starts at Heuston Station Dublin, gateway to the West and South of Ireland. We follow along the Cork Main Line, stopping just short of Limerick Junction. We also travel the lines to Westport, Ballina and Galway. There then follows a trip on the now closed Loughrea branch. After a visit to the line from Claremorris to Limerick now the subject of re-opening schemes and known as the "Western Rail Corridor", we return finally to Ballybrophy to see the once busy route to Killonan via Roscrea.
Trains covered include express passenger workings of air conditioned coaches hauled by 071 and 201 class locos, and branch workings with small GM 121, 141 and 181 and B201 class engines. One of the Knock pilgrimage trains is featured as are unusual passenger trips with a preserved Maybach engine formerly employed between North Wall and Heuston in Dublin. The freight workings are hauled by 201, 001 and 141 class locos.Finally we have loose coupled trains at Sligo and Mayo in the 1960s and 70s.
---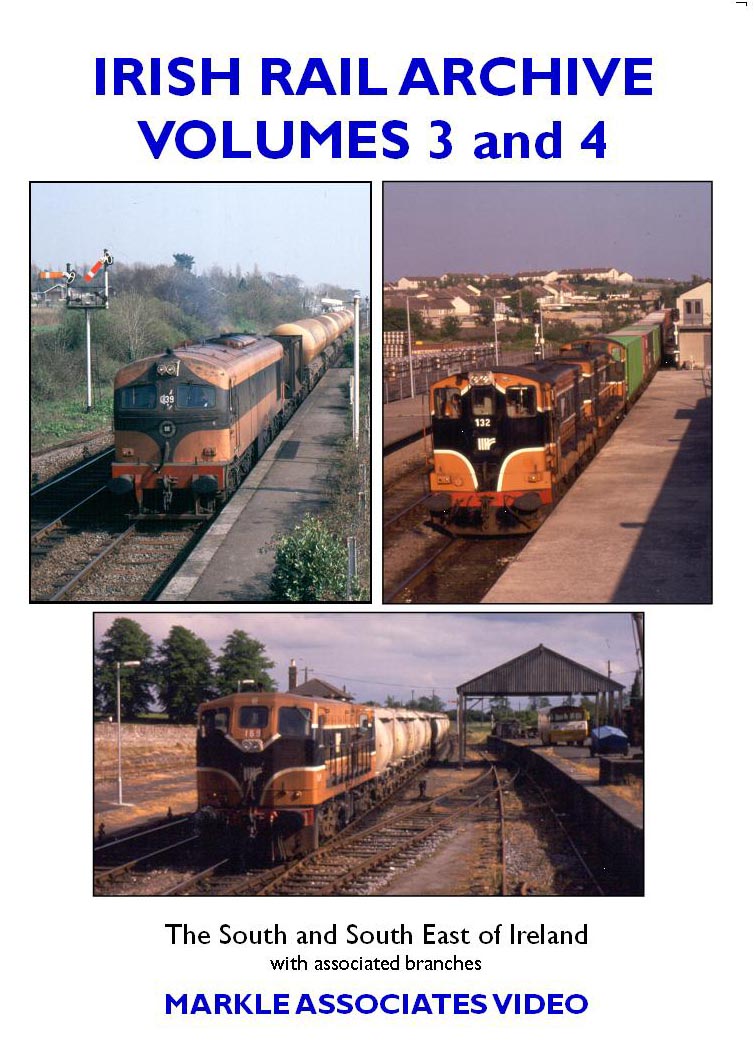 IRISH RAIL ARCHIVE VOLUME 3 &4
- £16.95 -To order see below.
These two videos, along with numbers 1 and 2 of the series, were first published on VHS tape in 2000. Together they give a geographic picture of the Irish railway scene in the period from around 1967 to 1999. They have now been remastered with improved images and sound, and released as double length programmes on DVD.

Volume 3 starts at Limerick, proceeding to Carrick on Suir via a short detour to the Foynes branch. Then we follow the Cork Main Line south from Limerick Junction. Beyond Cork we journey to Cobh with a visit to the Youghal Branch along the way. We also visit the Kerry line including taking a look at Killarney. Finally we see the workers of Tralee on one of their summer Sunday trips to take the bracing Atlantic air at Fenit.

Volume 4 starts off with the electrified DART services. The video follows the former Dublin and South Eastern Railway main line via Bray Head and down the East Coast of Ireland. There is a short feature on the Northern Ireland Railways railcars which once operated over this section, as well as coverage of the ammonia, cement and fertiliser trains which no longer run on this route. We then see the services to Rosslare Harbour before crossing via the South Wexford line to Waterford. The journey back to Cherryville Junction on the Dublin to Cork line is via the line to Kilkenny.

Locomotives featured include 001, 121, 141, 181, 071 and 201 classes, and the rolling stock includes Cravens, Mark 2 and 3 coaches, as well as older wooden bodied stock. More modern rolling stock also appears in the form of Japanese-built railcars. Freights are in the hands of various locomotives, including 001 and 201 class Metropolitan Vickers locos dating from the 1950s. During a series of visits to Athy we see a procession of trains, including the former cement working to the Tegral factory.

---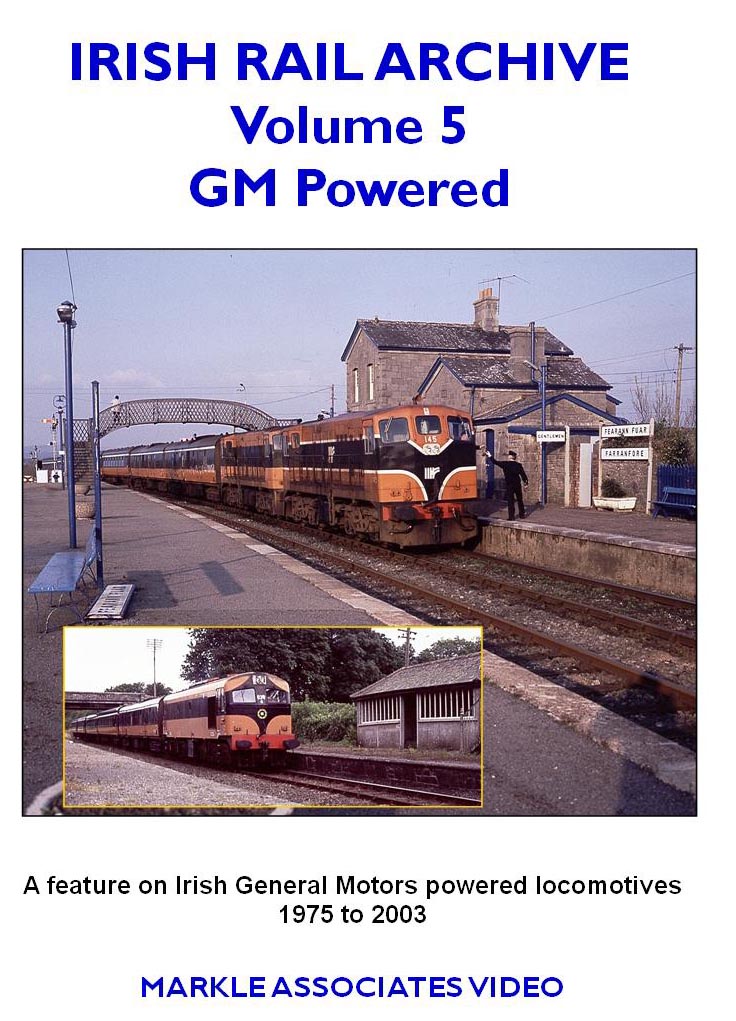 IRISH RAIL ARCHIVE VOLUME 5 - GM powered -
£16.95 -To order see below.
Markle customers have requested a feature on Irish locomotives powered by General Motors engines. Concentrating on the sight and sound of the trains, with little dialogue, this video covers the following classes during the period 1975 to 2003:
The 001 class - a 1950s design which, after being re-engined with GM powerplants, became the mainstay of the Irish loco fleet until the early 1990s.
The 071 class - Arriving new from GM in 1975, these workhorses powered express passenger trains until their downgrading to secondary passenger and freight duties around the turn of the century.
The 121 class - the locos that set the trend. When these elegant engines arrived from GM in 1961 they were to set new standards for reliability and flexibility, and they stayed in front line duties for more than 40 years.
The 141 and 181 classes - more convenient to operate than the 121s, these all round multi-purpose engines hauled freight and passenger trains all over the Irish network.
The 201 class - After a brief glimpse of the original Metropolitan Vickers 201 class, with their new GM engines, we see the powerful GM 201 class locomotives which have dominated passenger working since their arrival in the mid-1990s.

Trains featured include Inter City, cross country and suburban passenger workings, and pick-up goods, gypsum, ammonia, cement, liner, beer, and sugar beet traffic.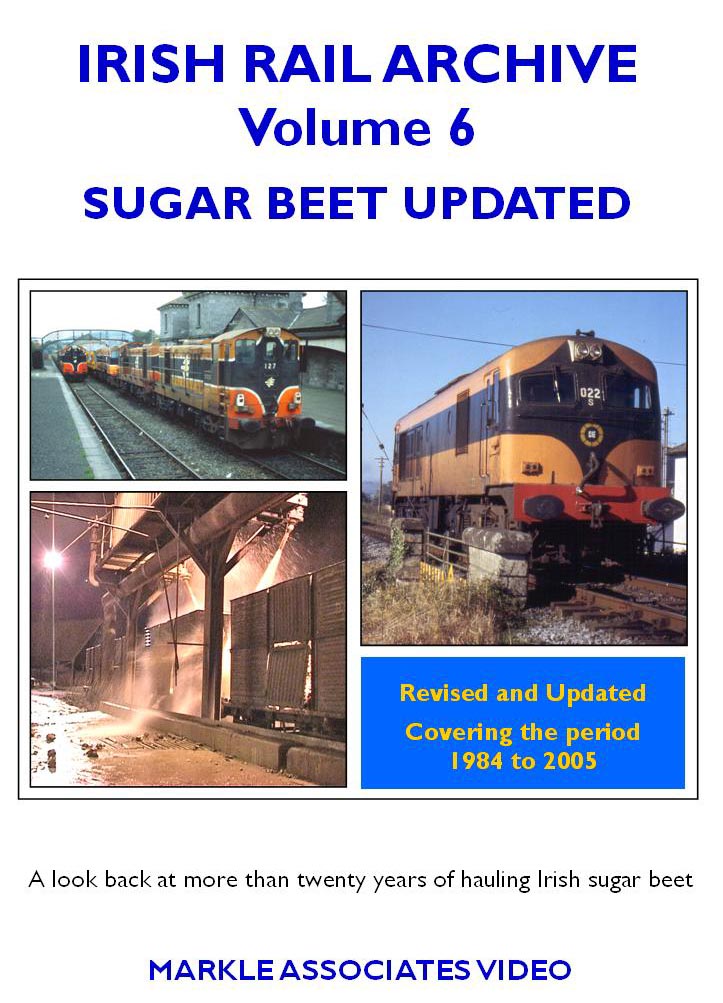 IRISH RAIL ARCHIVE VOLUME 6 - Sugar Beet Updated -
£16.95 -To order see below.
This DVD is a completely revised and updated version of "Sugar Beet Archive", made in 2000. It contains new scenes and brings the story up to date in 2005.

Until 2005, Irish Rail moved about 150,000 tonnes of sugar beet each year from Wellington Bridge in County Wexford to the sugar factory at Mallow in County Cork. This video follows the rail activities over 20 years, with General Motors engines hauling the vacuum braked wagons to and from the factory. After seeing the action at Wellington Bridge, we follow the trains west across the country. We see successively, the Irish Rail 001, small GM, 071 and 201 classes of locomotives, and the loose coupled wagons followed by the unique vacuum braked wagons. We follow the current route to Mallow, as well the line to the former factory at Thurles. Also covered is activity via Cherryville Junction during the 2003 year. Making a guest appearance is Northern Ireland Railways loco 112. Thanks to the kind co-operation of Greencore Ireland we can see the loading and unloading operations in detail. Also included in this DVD is the extra feature "The Last Campaign", covering the last year of Sugar Beet rail operations.

Producer of the DVD, Jim Edgar, enthuses "I wish I could go back and photograph it all again just as it was. Although there has been a lot of change, the trains continued to run until 2005. This video allows you to see it at its best."

---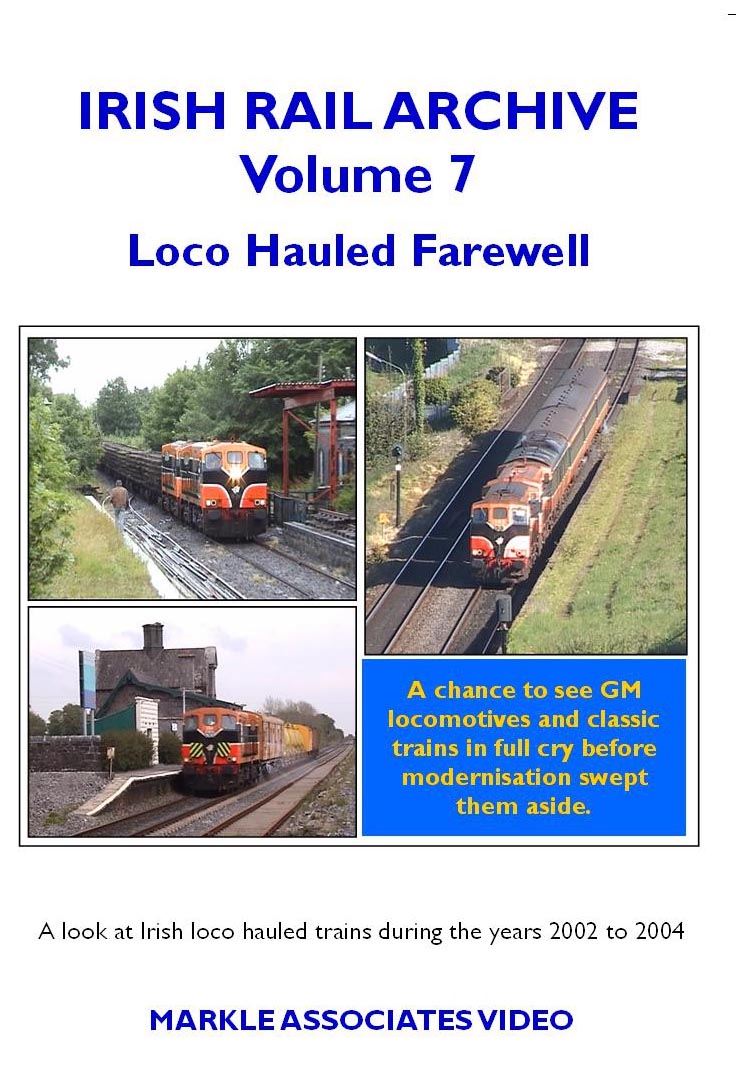 IRISH RAIL ARCHIVE VOLUME 7 Loco Hauled Farewell
£16.95 -To order see below.
In the years 2002 to 2004 rail enthusiasts thought that the haulage of trains by locomotives in Ireland had already fallen to chronically low levels. Little did we know what was to follow - within a couple more years a combination of freight closures and new rolling stock orders would see most Irish locomotives about to become unemployed.

However, during this period two photographers, Mark Kelly and Paul Davis, made video recordings of locomotives at work. This included searching out liner trains running at night, and braving atrocious weather conditions to film trains on disused lines.

This DVD features the 071, 121, 141, 181, and 201 classes giving of their best before the rot finally set in. The coverage of this video is pretty well the entire Irish Rail system. The trains featured include - passenger workings using Cravens, Mark 2 and Mark 3 coaches, while freight coverage includes the Sligo oil traffic, bagged and bulk cement, timber, sugar beet, container and beer traffic. The annual weedspraying operation is seen on the Kingscourt branch and between Mullingar and Athlone, and a rail train is seen between Ennis and Athenry - places not visited by trains nowadays.
This video also features new locations for Markle, from along the banks of the Royal Canal and Longford yard to Limerick Junction North. Other locations featured include Enfield, Edgeworthstown, freight activity in Longford Yard, Woodlawn, Athenry, Killonan, Limerick Junction and Athy.

---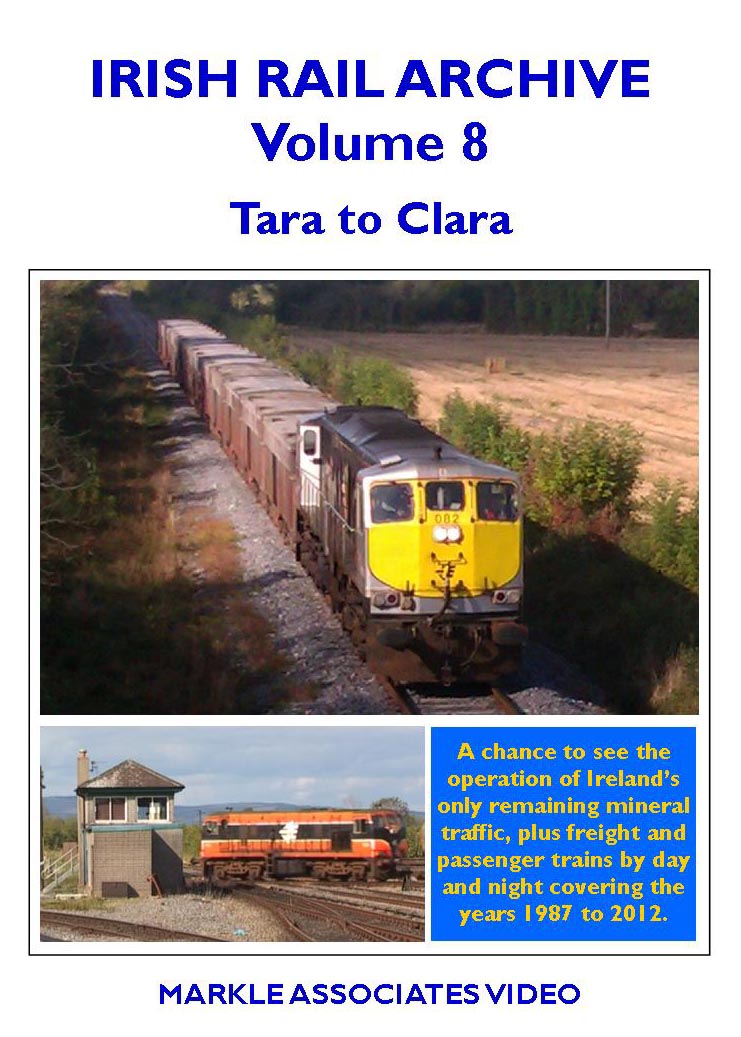 IRISH RAIL ARCHIVE VOLUME 8 Tara to Clara
£16.95 -To order see below.
As the Irish railway system has now established a routine, we are returning to the Irish Rail Archive series to bring you some reminders of the past.
This DVD is yet another delve into the recordings made by Irish railway enthusiasts. This time it covers the period 1987 to 2012.
With most Irish passenger trains now in the hands of railcars, it is the right time to savour an era when the locomotive was king.There is a major feature on the Tara Mines Trains, Ireland's only remaining mineral traffic carried by rail.
We also see:-
Coverage of our exploits recording trains in the twilight "The Starburst Years",
Views of Cement Traffic, now lost to rail.
The IE Relaying Trains using Donelli system are put under the microscope, both in detail in their latest version and back in 1987 when we found an earlier version in operation on the Cork Main Line.
We also pay a visit to Attymon and Dunsandle in County Galway, where the latter now hosts a small collection of railway exhibits.
And finally we look in at Clara, where freight and passenger trains still pound past the single platform.
This video features the following locations - Alexandra Road Tramway in Dublin, Attymon, Beauparc, Birdhill, Buttevant, Cherryville Junction, Clara, Drogheda, Duleek, Dundrum, Dunsandle, East Wall Junction, Howth Junction, Kilsheelan, Laytown, Limerick Junction, Navan, Port Laoise, Rush and Lusk, Sallins and Naas, and Tara Mines.

---
1. Price and Postage
All DVDs are £16.95. UK Postage Currently £1.00. Overseas £3.00 for postage to Europe and £3.50 for North America and Australia. Note that this is still PER ORDER, and not per DVD, so the more you buy in one order, the less the postage cost for each one.
2. Ordering
You can browse this site without buying anything. If you wish to buy, please e-mail us with what you want. Then we send you an e-mail invoice with a link to pay by credit card, or by "PayPal". Or, you can order by post and enclose a cheque in £ Sterling.
You do not need a "PayPal" account to pay online by credit card. Just click on the credit card links on the email invoice.
---
Click the page you wish to see from the table below.
---